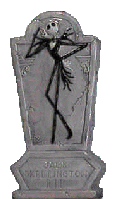 Saturday Oct: 23th, 2004
At: N 33° 31.136 / W 112° 13.763

List of Prizes Given Away - Click Here!
Please see the official web site for the event
Welcome to the 2nd Annual Halloween Radioactive
Nightmare Before Christmas
Geocaching Event Cache!
By: GeoTech Creations, LLC, StringCachers, and Crew
In Spirit - Brian Team AI
Halloween Town opens at 4:00pm and the Town Meeting ends at 10:00pm sharp!
Log Book:
Use the following story and questions to figure out the secret location of the log book. Don't let any sentence run you stray. The questions may be tricky, but then again - this is trick or treat.. Don't be fooled here - find the log book... you never know what might be waiting for the first few to come!

Note: The above Coordinates are 6.00" off. This is intentional. This information may or may not be needed as an offset. We'll let you decide. But notice the event coordinates changed - and by how much?

Chapter 1 - What's Jack Missing?

It was late one fall in Halloweenland,
and the air had quite a chill.
Against the moon a skeleton sat,
alone upon a hill.

He was tall and thin with a bat bow tie;
Jack Skellington was his name.
He was tired and bored in Halloweenland

"I'm sick of the scaring, the terror, the fright.
I'm tired of being something that goes bump in the night.
I'm bored with leering my horrible glances,
And my feet hurt from dancing those skeleton dances.
I don't like graveyards, and I need something new.

There must be more to life than just yelling,
'Boo!'"

Chapter 2 - Jack's Discovery

Then out from a grave, with a curl and a twist,
Came a whimpering, whining, spectral mist.
It was a little ghost dog, with a faint little bark,
And a jack-o'-lantern nose that glowed in the dark.
It was Jack's dog, Zero, the best friend he had,
But Jack hardly noticed, which made Zero sad.

All that night and through the next day,
Jack wandered and walked.
He was filled with dismay.
Then deep in the forest, just before night,
Jack came upon an amazing sight.
Not twenty feet from the spot where he stood
Were three massive doorways carved in wood.
He stood before them, completely in awe,

His gaze transfixed by one special door.
Entranced and excited, with a slight sense of worry,
Jack opened the door to a white, windy flurry.

Jack didn't know it, but he'd fallen down
In the middle of a place called Christmas Town!
Immersed in the light, Jack was no longer haunted.
He had finally found the feeling he wanted.
And so that his friends wouldn't think him a liar,

Chapter 3 - Jack's Lesson

He took the present filled stockings that hung by the fire.
He took candy and toys that were stacked on the shelves
And a picture of Santa with all of his elves.
He took lights and ornaments and the star from the tree,
And from the Christmas Town sign, he took the big letter C.

He picked up everything that sparkled or glowed.
He even picked up a handful of snow.
He grabbed it all, and without being seen,

He took it all back to Halloween.

Back in Halloween a group of Jack's peers
Stared in amazement at his Christmas souvenires.
For this wondrous vision none were prepared.
Most were excited, though a few were quite scared!

For the next few days, while it lightninged and thundered,
Jack sat alone and obsessively wondered.
"Why is it they get to spread laughter and cheer

While we stalk the graveyards, spreading panic and fear?
Well, I could be Santa, and I could spread cheer!
Why does he get to do it year after year?"
Outraged by injustice, Jack thought and he thought.
Then he got an idea. "Yes. . .yes. . .why not!"

In Christmas Town, Santa was making some toys
When through the din he heard a soft noise.
He answered the door, and to his surprise,

He saw weird little creatures in strange disguise.
They were altogether ugly and rather petite.
As they opened their sacks, they yelled, "Trick or treat!"
Then a confused Santa was shoved into a sack
And taken to Halloween to see mastermind Jack.

In Halloween everyone gathered once more,
For they'd never seen a Santa before
And as they cautiously gazed at this strange old man,

Jack related to Santa his masterful plan:
"My dear Mr. Claus, I think it's a crime
That you've got to be Santa all of the time!
But now I will give presents, and I will spread cheer.
We're changing places I'm Santa this year.
It is I who will say Merry Christmas to you!
So you may lie in my coffin, creak doors, and yell, 'Boo!'
And please, Mr. Claus, don't think ill of my plan.
For I'll do the best Santa job that I can."

And though Jack and his friends thought they'd do a good job,
Their idea of Christmas was still quite macabre.
They were packed up and ready on Christmas Eve day
When Jack hitched his reindeer to his sleek coffin sleigh,
But on Christmas Eve as they were about to begin,
A Halloween fog slowly rolled in.
Jack said, "We can't leave; this fog's just too think.
There will be no Christmas, and I can't be St. Nick."

Then a small glowing light pierced through the fog.
What could it be?. . .It was Zero, Jack's dog!

Jack said, "Zero, with your nose so bright,
Won't you guide my sleigh tonight?"

And to be so needed was Zero's great dream,
So he joyously flew to the head of the team.
And as the skeletal sleigh started its ghostly flight,

Jack cackled, "Merry Christmas to all, and to all a good night!"

'Twas the nightmare before Christmas, and all though the house,
Not a creature was peaceful, not even a mouse.
The stockings all hung by the chimney with care,
When opened that morning would cause quite a scare!
The children, all nestled so snug in their beds,
Would have nightmares of monsters and skeleton heads.
The moon that hung over the new-fallen snow

Cast an eerie pall over the city below,
And Santa Claus's laughter now sounded like groans,
And the jingling bells like chattering bones.
And what to their wondering eyes should appear,
But a coffin sleigh with skeleton deer.
And a skeletal driver so ugly and sick
They knew in a moment, this can't be St. Nick!
From house to house, with a true sense of joy,
Jack happily issued each present and toy.

From rooftop to rooftop he jumped and he skipped,
Leaving presents that seemed to be straight from a crypt!
Unaware that the world was in panic and fear,
Jack merrily spread his own brand of cheer.

He visited the house of Susie and Dave;
They got a Gumby and Pokey from the grave.
Then on to the home of little Jane Neeman;
She got a baby doll possessed by a demon.

A monstrous train with tentacle tracks,
A ghoulish puppet wielding an ax,
A man eating plant disguised as a wreath,
And a vampire teddy bear with very sharp teeth.

There were screams of terror, but Jack didn't hear it,
He was much too involved with his own Christmas spirit!
Jack finally looked down from his dark, starry frights
And saw the commotion, the noise, and the light.

"Why, they're celebrating, it looks like such fun!
They're thanking me for the good job that I've done."
But what he thought were fireworks meant as goodwill
Were bullets and missiles intended to kill.
Then amidst the barrage of artillery fire,
Jack urged Zero to go higher and higher.
And away they all flew like the storm of a thistle,
Until they were hit by a well guided missile.
And as they fell on the cemetery, way out of sight,

Was heard, "Merry Christmas to all, and to all a good
night."

Jack pulled himself up on a large stone cross,
And from there he reviewed his incredible loss.
"I thought I could be Santa, I had such belief"
Jack was confused and filled with great grief.
Not knowing where to turn, he looked toward the sky,
Then he slumped on the grave and he started to cry.

And as Zero and Jack lay crumpled on the ground,
They suddenly heard a familiar sound.

"My dear Jack," said Santa, "I applaud your intent.
I know wreaking such havoc was not what you meant.
And so you are sad and feeling quite blue,
But taking over Christmas was the wrong thing to do.
I hope you realize Halloween's the right place for you.

There's a lot more, Jack, that I'd like to say,
But now I must hurry, for it's almost Christmas day."
Then he jumped in his sleigh, and with a wink of an eye,
He said, "Merry Christmas," and he bid them good bye.

Back home, Jack was sad, but then, like a dream,
Santa brought Christmas to the land of Halloween.

Solve the mistery below to find the log book! - A special Prize for the First to Sign!!

Once at the event, here you will find something from the old. It is one of Jack's favorite "thinking places" and where Zero was first seen. There will be many to confront, but only one will tell. It is up to you to find the one who is missing. Once found, you will know when your in the right place. Think about where you might be if you were here and start looking from there...

Hint: - The real hint is close to the top of the page. The off-set is part of, but not the real answer.

Good Luck in your quest!

Event Schedule
Notice: event times subject to change without notice.

• 4:00 - Event starts – Registration begins
• 4:30 - Food is served
• 5:30 - Close of Event Registration for all events except Dr. Finklestein- In the Forest Cache Hunt
• 6:00-6:30 – Oogie Boogie Jr. Goblin Hunt
• 6:15 – Close of Registration for Main Cache Hunt!!!!!
• 6:40 to 6:55 – The Great Pumpkin Seed Hunt
• 7:10 to 9:00 – Dr. Finklestein – In the Forest Cache Hunt
• 9:15 to 9:45 – Prizes
• 10:00 - Go Home! The Event is Over!

Other activities going on during the event
Face Painting
Pumpkin Toss
Trick or Treating
Bob for Rats
Elf Bowling
Raffle and Door Prizes
Other Kids and Adult Activities
And More...
Event Details and Rules (Subject to change without notice!)
Dr. Finklestein - In the Forest Cache Hunt


Enter this forest if you dare and at your own risk! This multi-stage cache hunt may just frighten you right out of your skin!!! You'll need to be on the look out for things that go bump in the night and don't make a wrong turn or you might not ever find your way out! Don't say we didn't warn you! If you don't come back in several hours, don't expect us to come looking for you! We know what lies in these woods and we would not enter at any price!

This hunt will not be as easy as may think. You will need to put on your thinking cap and decipher clues to find the objects you need to collect to gain safe exit from the forest! Bringing back the wrong one may leave you puzzled and looking around for your way back!


Prize Categories:

Grand Prize – Magellan GPS - $25 Gift Certicate - TwinHead Pens - Peggy's Palette Pens - CITO T-Shirt - AZ Topo Map Pro - Large Tok Bag - Lots of other Misc Stuff!


1st Prize – Jeep Travel Bug - Garmin Hat - $25.00 Gift Certificate - Delux GPS Case - Belt Clip Compus - 1/2 Massage - Map Ruler - GC Frog - Geo Stickers - Garmin T-Shirt - Lots of Misc Stuff!


2nd Prize – Jeep TB - Garmin Hat - 1/2 Massage - Delux GPS Case - Geo Stickers - Map Tool - Garmin T-Shirt - Lots of Misc Stuff!

3rd Prize - Jeep TB - Garmin T-Shirt - Garmin Hat - 1/2 Massage - Geo Stickers - Oral Care Kit - Map Tool - Lots of Misc Stuff!

Rules:


This hunt is designed for adults. May not be suitable for younger goblins. We have certified baby sitters on-site for those who want to leave the younger goblins behind. Please RSVP for this either before the event or let us know at time of registration.

A portable black light is recommended for enhanced viewing and effects. A regular flashlight will be useful, but not required to complete this event. A pad of paper and knowledge of the movie "Tim Burton's Nightmare Before Christmas" and other ghostly trivia will greatly help you figure out the clues. A GPS is REQUIRED!

At the start of the event, an official event sheet with instructions, coordinates, and clues will be handed out. Each team will have a different sheet! So don't depend on other caching teams to help you out or you might find yourself missing out on the big prize!

Each team will need to complete the hunt in full in order to qualify for prizes. Only teams that register for the event by the registration deadline are eligible to participate in collections on the hunt and prizes at the end. If you don't want to participate in this event, but want to see the forest, you may do so after the hunt. Please let us know at the registration table so we can put your name on the list and an announcement will be made for the times to enter.

Teams completing the hunt must return ALL required items to be verified by our independent prize panel. Discrepancies in or missing items will disqualify a team. So pay attention to the sheet and make sure you have everything you need before you leave the forest. Once you turn in the items, your hunt is considered FINAL.
This will be a staggered start. Team order to be determined at the time of the event. Start order or time does not matter as each team will have an equal chance to win. Each stage will contain items to retrieve with a puzzle to solve indicating the correct item to retrieve. There will be multiple items at each location, so make sure you collect the right item! The event sheet will contain the coordinates to the next stage. NO TWO SHEETS ARE THE SAME.


Oogie Boogie Jr. Goblin Hunt


Specially designed for goblins 12 years and younger. This hunt will both be fun for the young and the old, but is limited to the Jr. Goblins. This multi-stage hunt has items for young goblins to find and bring back for their chance to win big prizes!

If you have any items left behind by ghosts, goblins, and ghouls that you'd like to donate, please let us know prior to the event so we can work on assembling prize bags.

Prize Categories:

Grand Prize – Cody of Team Elmosmelmo - Halloween Blanket - Battery Robot Toy - Garmin Hat - GC Frog - Geo Sticker - Garmin Coozie - Jack Set - Rope Bracellet - Lion Night Light - Pumkin Bag - Misc Stuff!


1st – Draven of Team ShadowAce - Frisbee - Geo Sticker - Garmin Coozie - Garmin Hat - Jack Set - Rope Bracellet - Pumkin Bag - Misc Stuff!


2nd Prize – Maren of Team Steele - Geo Sticker - Navy Lanyard - Garmin Coozie - Jack set - Rope Bracelette - Pumpkin Bag - Misc Stuff!

3rd Prize - Landon of Team Kiwiaz - Geo Sticker - Navy Lanyard - Garmin Coozie - Jack set - Pumkin Bag - Rope Bracellet

ALL Jr. Goblins got prizes - Lots of Halloween Toys - Candy - Misc Stuff!

ALL Participants are winners in this event! Please RSVP BEFORE the event to we can make sure we have enough for every goblin.

Rules:


Each team will be given a sheet with GPS coordinates to find items at each stage. When they have completed the hunt, bring back the bag for verification. Winners will be announced. Each team has the same chance to win.

Please be sure your goblins wear closed toed shoes for this event.

The Great Pumpkin Seed Hunt

Choose your best cache spotter from your team! They will need good eyes and fast feet to win this event! They will need to hunt down as many pumpkin seeds as you can and log them all within 15 minutes! There are two "Special Seeds" to be found to get special prizes!

Prize categories:

1st Place –Team Woobs - Most seeds found in 15 minutes - Delux GPS Case - Inactive TB - Topo Software - Geocache T-Shirt - Misc Stuff
Special Prize 1 and 2 – Team to find special seeds first. -

(13)Team Trying Racer - CITO T-Shirt - Slightly Used Cache Container - Navy Drink Cup - Garmin Hat - Magellan Desk Hourglass - Oral Care Kit - Misc stuff

(31) Team AJJR- Magellan GPS - $25 gift certificate - large cache container - Note Book - Twinhead Pens - Peggy's Pens - Delux GPS Case - HR Pencil - Misc Stuff!

Rules:

A GPS is NOT required for this event. A flashlight/strong black light will be most helpful. Only one member of the team may participate to make it a fair and equal event for all. All participants will start at the same time and at the same location. Each seed found must be logged on our special pumpkin seed log sheet to be legible for credit (sheets to be supplied at the time of the event). The hunter must return within 15 minutes of the event start to the designated place announced at the start of the event. Participants are responsible to keep track of time. There are two special seeds that will need to be retrieved and brought back for verification of find. Only one team may find one of the two special seeds.


Best Caching Adventure Contest:


Show off your greatest caching adventure picture! Your fellow cachers will be the judges! So, get out the old caching photo album and pick your best geocaching adventure to share.


Prize Categories:


Grand Prize Teeam ShadowAce - Garmin Hat - 1/2 hour Massage - CITO T-Shirt - Geo Stickers - Navy Cup - Oral Care Kit - Map Tool - AZ Topo Pro - Keychain - Bottle Opener - Lots of Other Misc Stuff!

Rules:


Bring a non-returnable photo of your team on the greatest cache adventure you've documented! They will be posted on a bulletin board to be voted on by your fellow cachers during the event. Your team name must be clearly written on the backside of the photo. Photos may not be larger than 4X6! At time of registration, a number will be placed on the front. This number is what will be used for voting. Voting sheets will be handed out at time of registration. Please, only one vote per team!


Best and the Worst Dressed GPS!


Dress up your GPS for Halloween! Your fellow cachers will be the judges! So, give that old GPS a good face lift and some new style. Hmmm... What should my GPS be for this Halloween?

Prize Categories:

Best Dressed Team AJJR - 1/2 Massage - $25.00 Gift Cerificate - Geo Stickers - Navy Non-Spill Cup - National Parks Maptech Software - Map Tool - Garmin T-Shirt - Lots of other Misc Stuff!


Worst Dressed Patty Cake & Pets- 1/2 Massage - Magellan Desk Hourglass - Coffee Mug - Oral Care Kit - Geo Stickers - Garmin T-Shirt - Map Tool - Lots of other Misc Stuff!



Rules:


Team must supply a non-returnable photo no larger than 4X6 of the GPS in costume. The GPS MUST be brought in costume to the event, matching the photo, for verification at time of registration. You may then remove the costume for the rest of the event if you wish. The picture must have your team name clearly written on the backside of the photo. A number will be assigned and placed on to the front of the photo for voting. Voting sheets will be handed out at the time of registration. Please, only one vote per team!


Raffle and Door Prizes:

Big Winner - I-Trex GPS - Team Steele

We gave away over 50 raffle bags this year. Congratulations to all the winners

We will be giving out raffle and door prizes throughout the evening. Bring us a printed copy of your geocaching.com stats page and you may receive extra chances to win some great prizes!

Rules:

Raffle tickets are only handed out at the registration table, at the time of registration. Tickets are issued on a team or partner basis (if separate caching team). Extra raffle tickets will be issued for valid team stats from geocaching.com. Raffle ticket distribution is solely at the discretion of the event hosts. No team is guaranteed a ticket(s) and no ticket is a guaranteed winner. Tickets and prizes depend on donations given to the event. There is no cost for tickets. However, feel free to bribe us if you think it will increase your chances to win!

The Haunted Grave Yard

Back by popular demand! See who has come to rest here this year! Your old favorites like Casper, Trucker Dan, Lazy K, and Captain Magellan, and others are still there and look forward to seeing you again!
General Event Information:

This year the event is being held at a local neighborhood Glendale City park. The terrain is easy and is mainly grassed areas. Dressing up in costume would be appropriate, though not required. We would still recommend closed toed shoes as it will be dark and hard to see. Some of the events are held on dirt and some areas are uneven.

Prizes have no cache value. No deposit, No Return. Use of metal detectors or Geiger Counters would be helpful, but not allowed!

Food and Drink:

Come join us for food and fun before the event activities start. We'll supply the meat; you supply the side dishes pot luck style! Please bring your own drinks, ice, and drink containers. No alcoholic beverages are allowed at the event. Please clearly mark your pot luck dishes with your team name on it so it will not get lost. Please make sure after dinner you re-claim your dishes and cleanup.

To make sure we have enough food, please RSVP at least one week before the event so we can plan appropriately.

Please post a note on Geocaching.com as to what you will bring for the pot luck to give others ideas.

We will have silverware and plates for eating, but you might want to bring some of your own to help out.

Things to bring:

A portable black light will greatly enhance your experience, but is not required for any of the events. A flashlight is strongly recommended and should be brought. A pad of paper with a good writing device would be most helpful for the main cache hunt as you may need it to make notes.

Required items for the event will be supplied. Extra batteries for that GPS would be a good idea. Sorry, we will not have extras this year.

There are no tables or other facilities at this park. Please bring a chair for each member of your team that wishes not to sit on grass or stand for long periods of time. We have rented port-a-potties for the event so they will be near by.

Travel Bugs:

This event is not a travel bug exchange. If you wish to do so, please make your own arrangements separate from the event. Thanks in advance for you cooperation in this matter.

Signature Items:

If you wish to bring signature items to the event to be given out, please contact us before the event to make these arrangements. Do to the tight schedule of the events, it makes it hard to do this ad hock. We will be happy to include and disburse them any way you like. Thanks in advance for your cooperation.

Parking:

Though there is plenty of parking, we have been asked to notify all participants not block anyone's driveway, park in front of anyone's house, block street access, or obstruct any other traffic flow in anyway. There is plenty of parking across the street from the houses and on side streets with no houses. Please drive slow through the neighborhood both coming and going from the event. The neighbors have been kind enough to share with us. Please show them the curtsey back. Violators are subject to tow at the owners expense.

Event Times and Park Closure:

We have posted the times that each event will start and end. Since we do not know the exact number of participants in advance, we would appreciate an RSVP as soon as you know to help us gauge time. You need to be responsible to be on time. Teams that are late or do not show up at the scheduled times will be disqualified from that event. The park closes at 10:00 sharp! We hope to have the event completed no later than 9:30 pm. This should give us enough time to pack and cleanup the park before it closes. You cooperation is appreciated.

Noise:

Though we have notified each neighbor around the park, we will not be using any amplified sounds for music or announcements. This may make it hard to hear when events are starting. Please make sure you keep track of time and help us reduce the noise level by coming to the start of each event. The starting point for each event is at the registration table. Prizes will be awarded directly after each event. When you complete an event, please stay by the registration area to receive prizes.

Raffle and door prize announcements will be made throughout the event. We will announce the number three times. If there is not taker, we will draw another number.

Prize Winners:

If you win a prize, please make sure you stay to the end of the event. We would like to take group and individual pictures of all our winners for our sponsors. We hope to start at 9:30pm at the end of the main cache hunt. After the event, we will post the team names and prizes won on our web site. Limited postings of winners will be posted on geocaching.com's event web page.

Event Logbook:

The look book will need to be found and signed before the event is over in order to receive credit for the cache. For those of you who wish not to solve the puzzle, the log book will be placed at the registration table sometime before the end of the main Cache hunt. There will not be an announcement.

For teams that wish to solve the puzzle, please check this cache page before the event. All clues will be posted no later than five days prior to the event. If you need help? E-mail us, we will be happy to drop a few extra in the pot!

Our Incredible Event Sponsors!

Ultimate Computer Concepts, Inc.
GPS Outfitters
Rowpar
Twinhead
Magellan
Garmin
Biltmore Spinal Associates, Inc.
Peggy's Palette
Sportsman's Warehouse
Groundspeak
Team Magical Memories
Maptech
Semsons & Company
Allways On Time Screen Printing and Sportsware
Prizes

We have lots of give-a-ways and prizes! So don't miss out on your chance to walk away with some really cool FREE stuff!
Volunteers

Because we have a full evening and we must be done by 10:00, we are looking for volunteers to help us clean up after the event. Last year we had lots and it was great! Please e-mail us in advance at geocaching@uccinc.net if you would like to help us out.
See you there!